The Kids Magic Show
Thomas is an expert of kids magic show and children's parties are his passion!
His gig is simply brilliant interesting for all age groups from 3 to 12. His magic show is packed full of very cool modern tricks and amazing illusions, all offered with his unique brand of comedy and energy.
It can be suitable for:


• Birthday parties
• Special Event
• Festival and celetration
• Kindergarten and Primary School
• And much more other party, event or function...
Please feel free to look around the website. There are several packages available depending on what style of event you are organizing. No matter what kind of event you are preparing, we can assist you with something amazing and hilarious that will ensure your event is remembered well after it's finished.
Thomas Magic Show for 2011 Darling Harbour Australia Day:
Special Kids Magic Show Package
Highlight of the party! We have a special "Kids Magic Show Package" that provides "30 minutes magic show + 30 minutes balloon twisting":). Some candy will be produced by magic in the show and kids will get lovely colorful balloons after that. It is in an incredible 1/2 price if the booking is made before the end of this month. Our magician is covered by $20,000,000 Public Liability. You can just book a special magic and balloon show for your kid and feel relaxed. Book now, do not miss out!
** Travel fees may apply to some areas just ask us for a quote.
The Magic
Even though it's a children's magic show, the tricks are truly incredible. Some of the activities include:
• making the birthday child become a little magician like "Harry Porter".
• drawing a picture of candy and make it become a lot of real tasty candy!
• Making lots of colorful silks disappear only to reappear in the strangest of places!
• tearing up a paper and immediately restoring it in front of their eyes
• producing funny balloons from invisible ingredients • teaching children how to make beautiful snow storm.

Aside from all the sparkling magic, the show features lots of colorful balloons that accompany some of the tricks.
The show also presents some special effects and music. His show is very creative; he brings up volunteers to help with amusing results. The birthday child becomes the magician when they help out and then acquires a very special reward for their labors!!
The show will have the children totally fascinated, enchanted and laughed out loudly. This is kids' party entertainment at its greatest!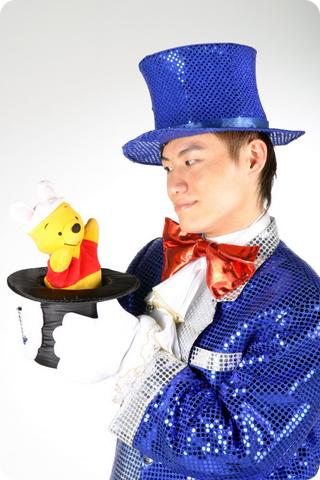 The Clown
Apart from magicians, we can also provide clowns who are some children's favorites. Clowns are amusing and interesting characters who add color and laughs to any events. The show features balloons, physical comedy, magic and much, much more...
At Wow Magic Studio Clowns travel anywhere in Sydney for any functions from Birthday, Christening, Naming Day, you name it we are there. Clowns are always the best characters of all kinds of parties.
The Balloons
As a different sort of roaming character, a balloonologist can make customized sculptures right in front of your face. It will be interesting and memorable while people can take something home. This will ensure the event will be remembered.
Besides being a talented children's entertainer and kids' magician, Thomas is also a professional balloon modeler, so each child at Thomas's magic gig will receive a shining colorful balloon. And this balloon can be customized for the kid!! How about a hat with swan and balloon sunglasses or even a sexy balloon lip for a girl?! Or a parrot sword with a shinning belt or even a tail for a boy?! Some of the others include a flying butterfly, swords, laser guns, flowers, hats, giraffes...actuality we can make pretty much anything!!
In addition, the birthday child will receive a very cool mysterious big balloon!!
Face Painter
Looking for face painting? Face painting is another great option for kids' party. Our face painters use very gentle professional face paints that are easily removable with water. More important, they always like to spend time making people happy!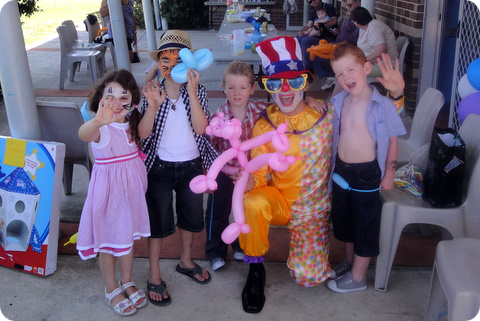 These are typical comments/ feedback from our clients....
A letter from our happy client:
"We really appreciate the wonderful job you did for my sons birthday party. The children had a great time. I am so happy that we hired you and will be recommending you to all the parents I know. Thank you very much you helped make my sons birthday a wonderful day to remember for everyone who came and espescially my son Thomas. I hope you have great success with what you do and hope I see you at future parties." -Kerry, St Marys

"Good job! It is fantastic! Thanks for your coming for Brody's birthday party!" -Sue, birthday party

"I like your show, especially the balloons. Kids love that." -Gaby, Rose Bay

"Well done. Thanks for your balloon flower for Elain." -Ozel, Leichhardt

"Thanks for your acceptance of our invitation. We really need a magic teacher who can interact with students positively and care for their participation and response individually." -Liu Kung I, magic camp

"Thomas is one of the few magicians who dare to perform just a few inches from you. I have never seen such an impeccable show in such a close range. He gets audiences involved without pre arrangement and makes people hold their breath and wide shut their eyes. In short, Thomas is magical in turning a monotonous function party into a real entertaining night." ~Reid Zhu
"Your show was fantastic! It was well organized! Thank you so much."~Shi Zong Zeng
"You did a really good job." ~Kimberlina, Chatswood
"Very appealing and eye-catching performance. Especially the ability to involve audiences and interact with them actively bring the performance to its climax."~Emily
Order by and receive the following bonus:
- Special big, colourful, bright balloon sculptures.
- Balloon doggies, piggies, flowers or even a big pink panther.
A happy birthday girl:
Are you looking for a fantastic kids' entertainment?

Contact us and check dates of availability now.
Book now! Don't miss out! Make your next kids party fabulous!